EM2010 Wireless Environmental Noise Monitor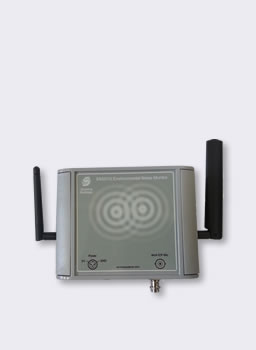 EM2010 Wireless Noise Monitor
Overview
The EM2010 Noise Monitor is designed for medium and long term environmental noise monitoring. It is the quickest and easiest to install of all our monitoring systems and comes as a complete package with mobile phone connection already active.
Very quick and easy to install
Connection to Internet over mobile phone network
Connection and 1 year contract included
Weatherproof monitor and microphone
Email and SMS alerts
Applications
This unit is ideal for any noise monitoring applications that demand a unit that meets IEC 61672 or ANSI S1.4 and require access to the noise measurements through a standard web browser.
The EM2010 Noise Monitor consists of an Outdoor Microphone, a small box with the processing unit, and a power supply. It can be connected up in minutes - just connect the microphone and power supply to the processor and away it goes. The unit will automatically measure the periodic Leq and L90 along with many other parameters, storing the results internally for up to 1 year and regularly uploading them to the web server.
The noise reports are viewed by logging in to a web site and selecting the days of interest. The results can be viewed in a tabular or graphical format, or you can download them to Excel (or similar spreadsheet program) and create your own reports.
The microphone has a standard thread, so it can be mounted on a tripod for short term use or on a mast for long term noise monitoring.
The processing unit is enclosed in a die-case aluminum box, but for double protection and ease of powering (the power supply unit is not weatherproof) we recommend mounting the processor and power supply in the Outdoor Enclosure (order code EMENC). You can see the Outdoor Enclosure on the Options page and read more about installing the monitor on our Installation page.
Portable Noise Monitor
The EM2010P is a portable version of the same noise monitor. If you need to regularly relocate the monitor or have no power at the monitoring location then please see the EM2010P Portable Wireless Noise Monitor. The functionality and noise measurements are identical to the EM2010, but it is supplied in a weatherproof case with a 7-day rechargeable battery pack and microphone tripod.